Valery I. Gulyaev*, Semen A. Volodin**, Aleksandr A. Shevchenko***
Institute of Archaeology RAS, Moscow, Russia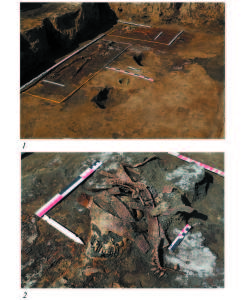 *E-mail: viguliaev@yandex.ru
**Email: volodinsaimon@gmail.com
***E-mail: she.shevchenko@yandex.ru
Keywords: Scythians, mound, kalathos, headdress, the Middle Don, the Scythian period, funeral rite.
The article is a preliminary publication of the results of excavations in the Devitsa V cemetery conducted by the Don archaeological expedition of the Institute of Archaeology RAS. During the 2019 field season, mound 9 was studied. Under the mound, a Scythian period burial was found in a wooden frame and pillar tomb with dromos. Four individuals were buried in it (all women, as defined anthropologically). Almost all of the Middle Don mounds of the Scythian period were subjected to repeated robbery, however, the grave in mound 9 was plundered only partially. Two burials remained intact and, thus, are of great interest. On the head of one woman, a ceremonial headdress survived consisting of gold plates and rims with pendants – a Scythian kalathos. The other woman was buried with offensive weapons – two spears.
Funeral inventory allows dating the complex to the second half of the 4th century BC.