Yevteev A.A., Oleinikov O.M.
*Science and Research Institute and Dmitry Anuchin Museum of Anthropology (MSU named after M.V. Lomonosov), Moscow (evteandr@gmail.com)
**Institute of Archaeology Russian Academy of Sciences, Moscow (olejnikov1960@yandex.ru)
Keywords: Veliky Novgorod, the church of Dmitry Solunsky in Doslan street, manors of the 12th–14th cc., a church cemetery, paleoanthropology, craniology, paleopathology.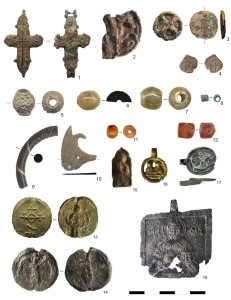 The Doslan' excavation was situated in the northern part of the Nerev end of Veliky Novgorod in 2–5 km to the west of former church of Dmitry Solunsky in Doslan' street. The cultural layer here is dated back to the end of the 11th – 20th cc. At the end of the 11th c. the dividing of the territory on Doslan' street into lands for city's manors happened. Four courtyards with additions, which can be identified as icehouses, have been traced. In the beginning of the 13th c. the studied territory was desolated. The renovation of the manors started in the 14th c. In the eastern part of the excavation the church territory has been traced fenced by a stockade with a cemetery of the 14th – 19th cc. The bones' remains from 136 burials have been examined. Total craniological series contains 57 skulls. An average age of death in a group: 33.4 years old for men and 31.2 years old for women. The reconstructed length of a body for men varies from 166 to 169 cm, for women – from 153 to 157 cm. In a series the percentage of skulls and postcranial skeleton's injuries and also joints and spine's diseases are high. The percentage of markers of physiological stress is also high. The condition of dentofacial system is bad. Significant differences between the buried of different chronological periods are observed in all systems of anthropological characteristics especially pronounced between series from the 16th and 17th cc.