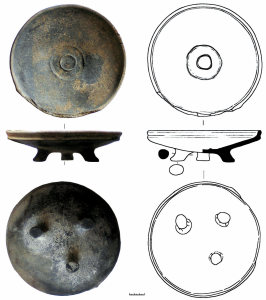 Zarina Kh.-М. Albegova*, Vladimir Yu. Malashev**.
Institute of Archaeology RAS, Moscow, Russia
E-mail: * albegova_zarina@rambler.ru;
** malashev@yandex.ru
Keywords: the North Caucasus, the Alanian culture, the 3rd century AD, fyng-table.
In the course of 2011 salvage and protection activities in the Beslan burial ground (the Republic of North Ossetia – Alania), pair grave 734 of the 3rd century AD, disturbed in ancient times, was investigated. The burial arranged in a moundless catacomb is characteristic of the Alanian culture of the North Caucasus. Among the survived funeral implements, of special interest are a unique ceramic table on three legs and a mug with a zoomorphic handle depicting a feline predator.
DOI: 10.31857/S086960630001602-1